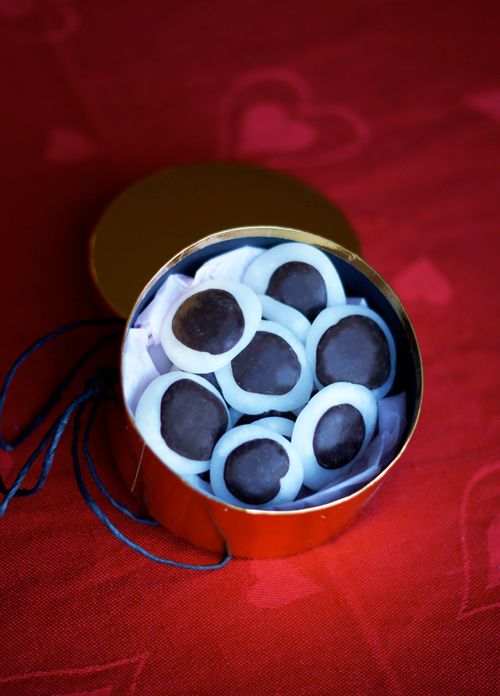 These sweet little treats are fun to make and so

moreish

! Wrap them in a cute box and they make a lovely homemade gift.
Ingredients:
2, 5 cups [4 dl] icing sugar
1/2 cup [1 dl] cold water
A few drops of vinegar
10 drops of peppermint oil
100 g dark chocolate
Mix icing sugar, water and vinegar in a pot, bring to boil and let it simmer for about 10 minutes.
Check if it's ready by cooling a little bit of the mix in a glass of cold water, and then "roll" it between your fingers. If the mix becomes like a thread between your fingers it's done. Otherwise boil for a little longer.
When the mix is "thready" add the peppermint oil while stirring. Then let it cool down a little while continuing to stir. The mix should now be a white opaque colour.
Using two spoons, form small, round pastils on a sheet of baking paper. When the pastils have set, melt the chocolate and pour into a plastic bag. Cut a small hole in the bag and decorate each pastil. Let the chocolate set, and enjoy!