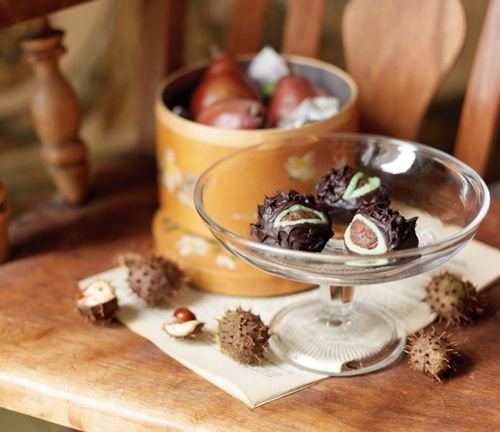 When autumn and winter comes I love spending cosy evenings making sweet things in the kitchen. This
recipe by Miss Hope of Hope and Greenwood have combined two of my favourite things, chocolate truffles and chestnuts! I think these truffles are so gorgeous, wrapped up nicely they would be perfect as gifts.
Hope and Greenwood are English confectioners, their shops have a lovely 1950's vibe. I also like Miss Hope's quirky writing style, enjoy!
This autumnal truffle is made with an amazing pear vodka and chestnut ganache, wrapped in a green scarf of marzipan and enrobed with milk chocolate it looks precisely like a chocolate conker nestling in its prickly case. The autumn wind is whipping through the trees, the sun is low and cool; take a walk in the park, kick up some leaves, fly a kite, feed the ducks, fight off a mugger.
Makes 8
Takes 1 hour, with overnight drying
Ingredients:

2 dried pears, finely chopped
75ml (3fl oz) pear vodka
4 cooked chestnuts
100g (31/2oz) milk chocolate
25g (1oz) butter
Milk chocolate, for tempering
200g (7oz) marzipan
Green food coloring
Icing sugar
Dark chocolate, for tempering (see page above)
1. Put the chopped pears in a pan with the pear vodka and bring to the boil. Simmer for 2-3min until soft. Tip into a food processor with the chestnuts and whiz to make a purée.

2. Pour 5cm (21/2in) hot water into a pan and heat. Pop a heatproof bowl on top of the pan, making sure the base doesn't touch the water. Melt the chocolate in the bowl – don't stir it otherwise it may turn into a thick mess.

3. When the chocolate has melted, add the butter, chestnut and pear purée. Spoon into a bowl and chill until firm.

4. Use a teaspoon to take teaspoons of the mixture and shape into small balls, the shape of marbles. Freeze on baking parchment for 30 minutes to 1 hour.

5. Temper the milk chocolate. Here is the microwave method for people with jobs, children, pets, friends, a train to catch. Pop the chopped-up chocolate into a microwaveable plastic or glass bowl and melt at 800-1000W, checking every 15 seconds or so, taking care it doesn't overheat. When the chocolate looks nearly melted, but there are still a few bits bobbed on top, take it out of the microwave and stir the chocolate gently until smooth. It should have thickened slightly. It's ready to use.

Line a board with baking parchment. Dip each pear and chestnut ball into the chocolate, then lift out and place on the parchment. Set aside to dry.

6. Knead the marzipan lightly on a board, then add a couple of dots of green food colouring. You may want to don rubber gloves at this stage. Work the food colouring into the marzipan until thoroughly mixed through.

7. Dust the board with icing sugar then roll out half the marzipan to make a rough square. Cut into four, then wrap each square around four of the pear and chestnut balls. Cut out a horizontal oval to reveal a little of the chocolate underneath on each chocolate. Trim each with a knife round the base and press to shape around the chocolate. Repeat with the remaining chocolates and marzipan then leave to set at room temperature for at least 8 hours.

8. Temper the remaining dark chocolate. Take a chocolate in one hand and a spoon in the other. Spoon the chocolate all over the marzipan, leaving about a 2mm edge around the marzipan. Allow the chocolate to go tacky, then take a fork and press and lift it all over the dark chocolate to create a spiky effect. You can be covering the next chocolate while you wait for the chocolate to dry on the chocolate before but don't let the covering dry completely otherwise you won't make the spikes.

9. Allow to set, then enjoy!