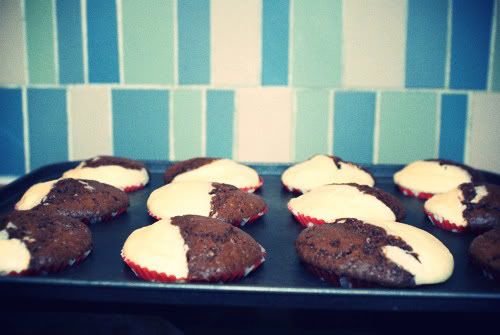 These are my best muffins. They are so good I can easily eat three in a go! Because what can be better than cheesecake and chocolate combined?
20 muffins
Ingredients: (Swedish measurements in brackets)
1 1/2 cups [3,5 dl] flour
1/2 tsp [1/2 tsk] baking powder
1/2 tsp [1/2 tsk] bicarbonate of soda
1/4 tsp [1/4 tsk] salt
125 g butter, room tempered
1 cup [2,5 dl] demerera sugar
2 eggs
1/2 cup [1 1/4 dl] cocoa powder
1 tsp [1 tsk] vanilla extract or vanilla sugar
2/3 cup [1,5 dl] milk



150 g dark chocolate of a good quality
Cheesecake filling:
300 g Philadelphia cream cheese
1/3 cup [3/4 dl] sugar
1 egg
1 tsp [1 tsk] vanilla extract or vanilla sugar
~ Preheat your oven to 175°c/350°F ~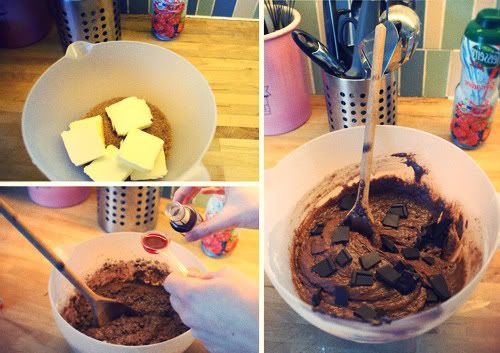 Mix flour, baking powder, bicarbonate and salt in a large bowl and put to the side. Whisk the butter and demerera sugar with an electric mixer and add the eggs one by one. Using a wooden spoon, mix in the cocoa and the vanilla extract, then add milk and the dry ingredients you prepared earlier. Mix well but don't stir more than necessary. Lastly, break the chocolate in chunks and stir them in.
Make the cheesecake filling by using the electrical mixer to whisk the cream cheese until soft. Add sugar, egg and vanilla extract and whisk it all together so it becomes smooth and airy.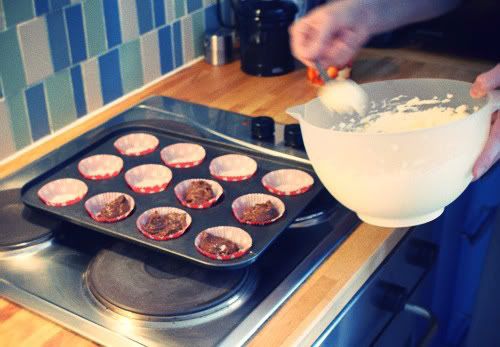 Now place around 20 muffin cases on a baking sheet, and spoon the chocolate batter into each case so it is about 2/3 full. Fill them up with cheesecake filling.