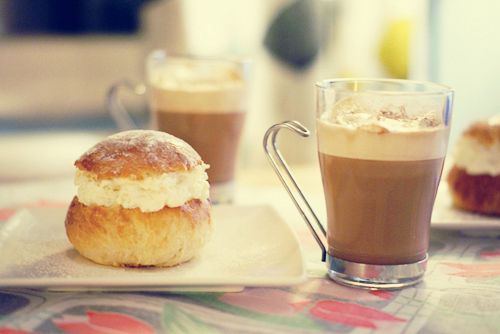 James has now eaten three of these beauties, and I have scoffed down four! They are seriously the best thing ever... here is the recipe:
Ingredients for 8
semlor
(
semla
in plural is
semlor
):
50 g fresh yeast or 1 packet of dried yeast
3-3,5 cups flour [7-8
dl
]
Mix the milk, melted butter and egg in a bowl. In a separate bowl, mix yeast, sugar, salt and flour. Add the dry mix to the liquid mix a little bit at a time, while stirring (if you're using fresh yeast you have to heat the liquid to 37
°c for the yeast to work properly). Take the dough out of the bowl and place on a floured table, the dough should be a little bit sticky but you should be able to knead it and make a smooth "ball". If it's to sticky, add a little more flour.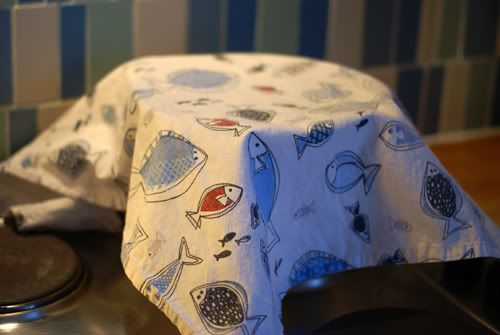 Now comes a really important bit, you want the dough to rise to about double size, to make the buns really fluffy. Place the dough back in the bowl and leave it covered with a tea towel for about 30 mins. I have noticed that when you use fresh yeast the dough rises up really nicely if you just leave it, but with dried yeast it sometimes doesn't. Since fresh yeast is really hard to find in the UK I now use this trick; place the bowl somewhere it can get a little heat from underneath, if your oven gets a little warm on top when it's on this is perfect (I don't mean that the hob should be turned on, just the warmth from the oven being on), or do what I do, place the bowl above a radiator, works like a charm!
When your dough is big and beautiful cut it into smaller parts and make round buns, don't make them too big! Leave them under the tea towel again for a further 20 mins.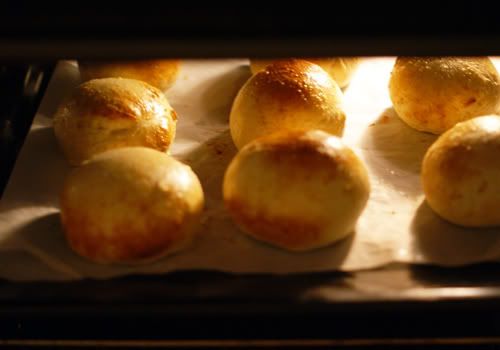 Brush with whisked egg and bake them in the oven on 430
°F
[225
°c ] until they are golden brown, around 15 mins.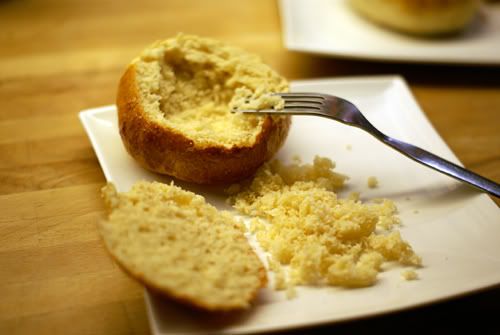 When the buns have cooled down, stick a fork around the top of the whole bun to make a "lid". Scrape out some of the buns inside to make more room for the filling. The stuff you've just scraped out you can either put in the filling or just eat!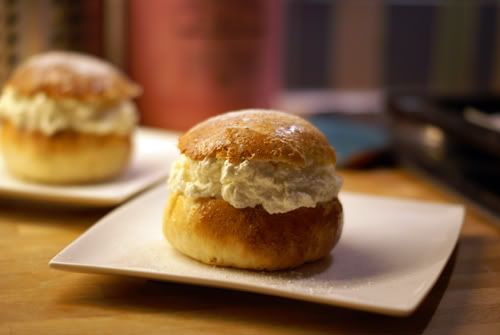 Whip the cream with a little icing sugar added, grate some marzipan on the largest "holes" and mix with the cream. I usually mix in a little bit of the inside of the buns too. I also put a little chunk of marzipan at the bottom of the bun as a bonus! Smooth the cream on the bun, place the lid on top and sprinkle with icing sugar. Voila!
If any non-Swedish peeps make these I would really love to hear how it went and if you liked them!